Chapman Hall Recognized in Metro Atlanta Real Estate Sales
Award Winning Performance
Recognized as a Top Twenty Metro Atlanta real estate sales leader year after year by the Atlanta Business Chronicle, and acknowledged as a leading company and successful real estate organization in Metro Atlanta
As a Top Twenty real estate brokerage operation out of thousands of real estate companies, no one can do business better than the real estate agents working as members of Chapman Hall Professionals.
We provide Agents our on-going commitment to provide the best compensation plans so you can take home much more of the sales commissions you generate.
Dare to compare your current company's compensation plan to see how much more personal income you will make at  Chapman Hall Professionals!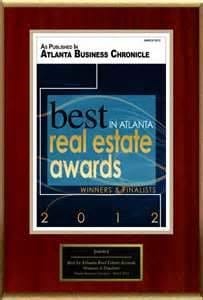 Chapman Hall Professionals
Is the "Destination Company" for experienced real estate agents wanting to "take home" more money.
Key Characteristics of Agents Who Choose to Join Our Company
You want the very best Agent compensation plan choices that enables you to maximize your "take home pay" on every sale you close.  EARN MORE MONEY AT PROFESSIONALS THAN WHERE YOU ARE AT NOW!
You want your check paid at closing so you don't have to wait to get paid for your hard work
You want to minimize your total monthly bill for things that you have to pay to your Broker
You know the real estate business, work independently, and do your business with a sense of pride in getting it done right with great staff support when you need it
You want good, quick knowledgeable Broker support from multiple brokers when you need it for advice and to solve problems
You like to do the least amount of paperwork possible while still complying with GREC rules, and you turn in all of the required documents promptly so there is no hassle with audits
You don't like lots of useless things like required boring sales meetings, mandatory use of paperless transaction management systems, and old fashioned time wasters like required property preview caravan
You do like having a first class, conveniently located office with great technology, and well equipped private conference rooms to meet with your Clients
| Compare your current office with CHAPMAN HALL PROFESSIONALS | CHAPMAN HALL PROFESSIONALS | Your Current Office |
| --- | --- | --- |
| Choice of high yield Agent Compensation Plans Including 100% Plan to maximize YOUR personal take-home income from your closed transactions | | — |
| Great office – prime visible location & good parking, Renovated lobby, multiple well equipped technology enabled conference rooms, and Agent work areas | | — |
| Very low cost based on your compensation plan selection and choices that you make in advance | | — |
| No add on "junk fees" or "transaction fees" you have to collect or pay yourself on your closed sales | | — |
| Free customizable Listing Presentation, Buyer Agency Presentation & marketing tool templates available | | — |
| No earnest money hassle and lost time – our closing attorney can hold & disperse earnest money deposits | | — |
| You can get your commission check at closing instead of waiting days to get paid – or we can direct deposit it in your own personal bank account if you prefer | | — |
| Ability to work independently in a professional, supportive team environment | | — |
| Experienced, professional multiple Brokers, management, and support staff available when you need them | | — |
| State-of-the-art technology developments in business tools, education, and access to training resources. | | — |
| New company website to get your leads to you, and low cost custom personal agent websites and hosting available | | — |
| Simple, easy to understand system for turning in paperwork to office staff via fax or e-mail | | — |
We Would Like You to Know More About
Chapman Hall Professionals
This is your invitation to learn more about our company as you consider your career options now or in the future. We are always seeking quality licensed, experienced real estate people to become part of our growing team of Agents.
We look forward to learning more about you and sharing answers to all of your questions as you consider your  career options!
We believe Chapman Hall's most valuable asset is our outstanding reputation in the Metro Atlanta real estate markets.  Chapman Hall offices collectively closed over a billion dollars in sales volume in the past year.
Our company is a premier collection of real estate professionals with a carefully crafted and maintained image built on honesty and integrity that is essential in all that we do.
We are the destination company for real estate agents who want the very best Agent compensation of any real estate brokerage company in Metro Atlanta.  Let's sit down and do the math of what the comparison of take home pay here and anywhere else!
Our newly renovated office offers an excellent location with visibility and parking, multiple first class state of the art technology equipped conference rooms, convenient agent resource area, comfortable lobby, and Broker's office on site.
Let's Get Together and Explore the Possibilities!
Chapman Hall Professionals
MAKES YOUR TRANSITION EASY!
When you make your decision to take your career to the next level by moving your license and career to CHAPMAN HALL PROFESSIONALS we are committed to helping you every step of the way.  After helping lots of Agents join us, we have a simple, smooth process that makes your transition quick and easy.
You will find that your clients and customers will be glad to hear that with thousands of real estate companies in the Metro Atlanta market to choose from, you have joined a leading Top Twenty ranked metro Atlanta real estate company that closed over a billion dollars in sales volume last year and where you can continue to provide your Buyers and Sellers with the great service and achieve the results that you personally deliver to your buyers and sellers..
We look forward to being part of your future success in real estate and believe you will reap great financial rewards for making your decision to join us!
We are ready to make better things happen for your real estate career today!
View Compensation Plan Summary
Please enter your real estate license number below to view the Commission Summary for Chapman Hall.